I've come to the determination that a blog is like mold. You decide to take a day off from cleaning it, knowing that you'll have to do a little more the following day. Well the next day, your kid throws cheerios inside of the cabinet and it takes you 3 hours to find all of them, so you say, well I'll just clean the mold tomorrow. I'll MAKE time to clean the mold. Because if I don't do it tomorrow, it's going to take forever the next day. The next day you decide that after holding a baby all day long and attempting to keep playdough out of your hair that you'd just rather have a glass of wine. The mold has waited this long, what's one more day? The next day you look at the mold and think, 'Holy crap, how did I let the mold get this bad?! This is going to take forever and I certainly don't have time to clean it right now!!!' And here we are. Spending some serious quality time with the mold. Er, I mean blog. :o)
So I've been pretty good about the photos, but not perfect. Hey, at least I'm taking them at all! So here we are, with all that I have up to today. We don't have today's photo just yet. :o) You'll have to excuse the fact that they don't look the same... I've been playing around with photo actions to see what they do. If you're interested in photo actions, www.myfourhens.com has a ton of great ones! They make it so easy to edit your photos in Photoshop or Elements, you just click a button and you have great looking edits. Anyway, here we go!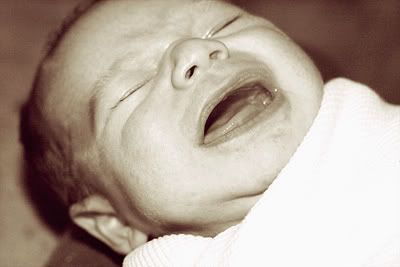 Noah does NOT like being wrapped up like a burrito! Unfortunately for him, it's the only way that he'll sleep. He isn't quite sure what to do with those hands of his, and they constantly wake him up.
One of those days! Incidentally this is the winery where we got married. Aww. :o) They really do have great wine though, and very affordable!
After our walk, Dillon decided to put every single item from his room into the stroller. I have no idea why, but it sure was funny to watch him try.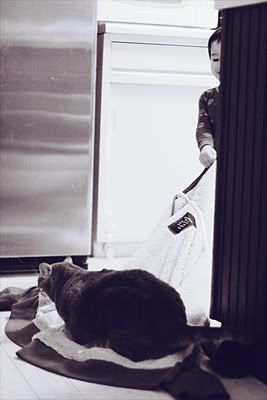 Dillon dragging Smudge around the house on Joel's jacket. BOY was that hilarious to watch! I can't believe the cat actually stayed on there, LOL!
Is that a guilty face or what? This was right after he dumped a cup of water onto the floor. On purpose.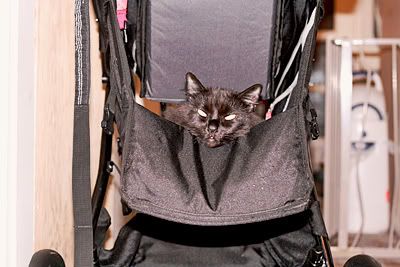 Regan in the back of the stroller, where Noah lays (the underneath part... its hard to describe but this is what we have ---> http://www.philandteds.com/upload/index.php/push/47 and the baby is kind of 'under' the main seat).
Any guesses? This would be crayon that I found in Dillon's mouth.
And this is the next day when I found the crayons. Sigh.
Dillon playing outside as usual! :o) He can't get enough of the mud and muck!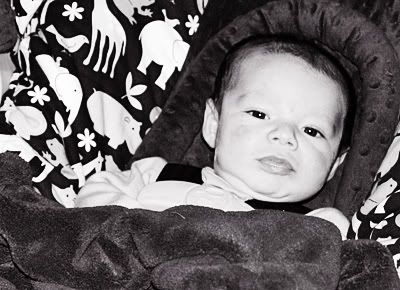 What a funny picture of Noah. Its weird, because I don't think he looks like this at all! If it weren't for the fact that that's our carseat I wouldn't know who's baby that is. ;o)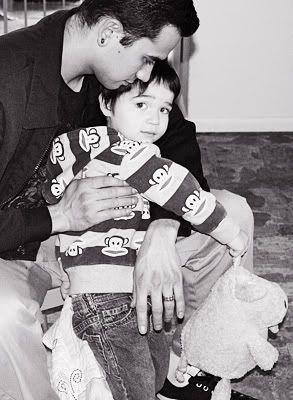 Aww. Dillon and daddy. And pig. :o) He loves that pig. We have two, just in case something happens to the first one.
What a silly boy! He loves to sit in that toy basket. Of course the toys have to be dumped out first...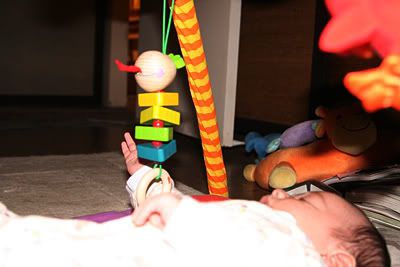 Okay not the best picture, I know, but this was the first day that Noah started actually trying to reach out for the toys! What a big boy!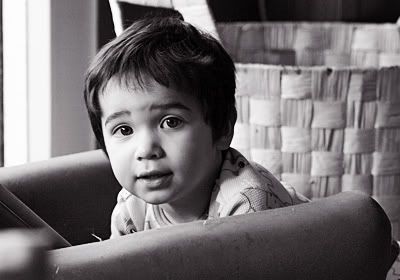 My sweet little peanut.
Aww, I just love this one! Look at that cute smile on his face, adorable! :o)
Bathtime! I forgot how much easier it is to give babies a bath in the sink. I love that tub too, it's the Fisher Price one that's shaped like a whale. :o)
I cannot even begin to tell you how much Dillon loves this movie. I must have watched Monster's Inc 8,000 times in the last 3 weeks alone. He's starting to learn when certain lines are coming up, like when the Abominable Snowman says 'Welcome to the Himalayas!!!' Dillon will say it too, LOL!
Love the bananas! God forbid we run out, then I remember what a real tantrum looks like. Speaking of which I think we're out now... uh oh.
Noah, not happy about the fact that he woke up on the sofa. He's been sleeping in our room in the bassinet (well, in the carseat inside the bassinet), so he's not used to sleeping on his back. I'm trying to break him of that since at some point he'll need to sleep in a crib! We're actually moving him into his own bedroom today. They grow up so fast! :o(
PHEW! Thanks for making it here without passing out! Hopefully I'll be able to keep better control over this thing. I also need to make a snazzy new background now that VDay is long gone. :o)
xoxo